JT started her dancing training in late 2003 in Lincoln, Nebraska.
She studied with Barbara Sorensen and Michele Schuler, director and co-director of In Your Dreams Dance Ensemble whose teachings fall under an improv form of belly dance called American Tribal Style.
In Your Dreams later became Benu Dance Company and JT had the privilege of traveling and performing all over the US with the company and has taken workshops from (literally) countless instructors in the belly dance field. In 2008, she moved to Pittsburgh, PA where she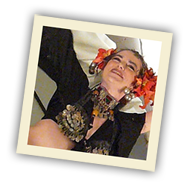 was eventually invited to join Khafif in November 2009. She continues her dance studies under various teachers in the Pittsburgh area, Neefa Bint Durr, Maria Hamer and Christine Hamer.
JT also teaches class at the Khafif studio where she is slowly cultivating a new ATS®/ITS dance troupe, The Pittsburgh Zillers.