Did you hear us perform somewhere? Like our Style? Buy our CD! Contact us at khafif@khafif.com

If you like your music free of modern artificial additives try Khafif's spicy blend of Masala! No MSG! May contain nuts! $15 plus shipping.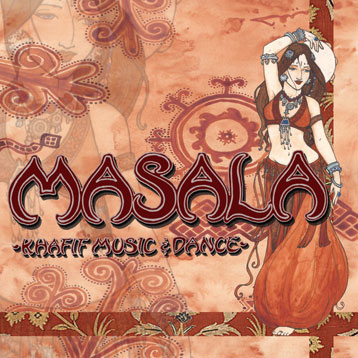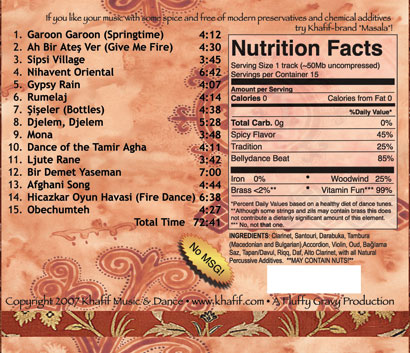 Tracks:
Doug Adamz

of Light Rain (a pioneer of "World Beat" music for belly dance) has this to say:

"I just received a copy of MASALA from Paulette at Gypsy Caravan in Portland. It's wonderful. I was so pleased to hear [your] version of Gypsy Rain. Actually, 'pleased' doesn't really describe the feeling I had, hearing the music coming back to me.... flowing and growing.

Nihavent Oriental is particularly beautiful as well, and I love Lynette's voice(s); it makes me understand full well why some repressive religious sects don't allow women to sing, it's just too sensuous and beautiful and gives men lustful thoughts! (yippee) I loved looking at the photos of you on your website. It would be fantastic to see your troupe perform someday."
Indo-Eurasian Combinations

Khafif's unique style of music and dance fuses modern and traditional, choreography and improvisation.
Since 2001, Khafif has been delighting audiences with their gorgeous blend of belly dance with folk
and traditional dance forms. Now you can learn some of their signature combinations!

After you've learned the moves, learn how to string them together to enhance your dance!


Central Asian Arm Cross
Central Asian Teapot
Saluting Step
Peekaboo Sit
Scan the Crowd
The Archer
Swaying Tree
Slicing the Arabesque
Cash Register
The Clock
Cingi Combo


Kamillah Bird Arms
Shoulder Rocking Shimmies
Roth's Move
Typewriter
Peacock/Lotus Hand Switch
Falling Lotus Blossoms
Streamers
Uzbek Dusty Hands
Rolling Home
Odissi Shoulder Touches
Chin Stroke


Plus two performances and extras!



Here's what some people had to say:



"I just got mine yesterday, thoroughly enjoyed it! We will be poring over it for some time I think!" (Peregrine)

"LOVE this DVD... Interesting new moves and combos! Clear instruction, happy teachers...thanks!" (Carla)

"A friend recently ordered the IndoEurasian DVD. I have been able to watch the two performances and thoroughly enjoyed them. I teased her that she wouldn't like the video and I'd buy it from her, knowing full well she won't part with it any time soon. :-) So, I'm going to get my own copy and show her!" (Frances)

"Yay! What fun! You guys are the greatest!!" (Haifa)


Khafif Instructional Video: Beginner Dance Techniques (also available as DVD)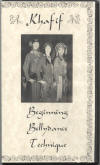 Join the Khafif dancers as they present fundamental movements that are key to a solid bellydance foundation.
Detailed instruction, multiple views, and helpful practice tips are all set to the inspiring sounds of the Khafif musicians.
You will learn:
the hip snap
hip twists up and down
horizontal shimmy/ washer woman
the hip arc
vertical single hip circle
flat Turkish circle
flat figure eight
shoulder shimmy

Egyptian/snake arms
ribcage slide
elliptical ribcage circle
head slide
head circle
body wave
the spin

You will also learn several combinations to help put your moves together. Two performance pieces end the video in style!

VHS are $15, DVD are $20 plus shipping to order online or by mail


CD: "Yunzradi Taraq Anat"

Featuring the Khafif Musicians in all their splendor! Songs with links have Quicktime media sound clips available.
Moorish Dance......................7:11
Rompi Rompi........................3:29
Makedonska Devojche..........4:11
Panihari.................................5:24
Erev Shel Shoshanim..............3:48

Guedra Chant...................3:22
Üsküdar'a.........................3:18
Bir Demet.........................2:17
Laz...................................2:47
Ikariotikos........................3:59

ATS, Tribal, Folkloric, World Fusion dancers--you WANT this for your collection!
For more info on the songs and their origins, please click

here.

Yunzradi CDs are 10$ plus shipping fees to order online or by mail